While you are in Bangkok, you can buy Thai Tribal Crafts (TTC) products at the Bangkok Christian Guest House.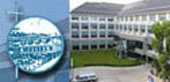 More Info | Contact


You can also buy Thai Tribal Crafts (TTC) products at the LOFTY BAMBOO, Khao San Road.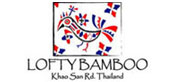 More Info | Contact
Exchange Rate
Certified Member


Pa Tin Jok Cotton Weaving Ban Padaed
Pa Tin Jok Cotton Weaving Ban Padaed was formed in 1998 following funding from the government to support the women of two Karen and eight Thai villages. The mission of the group is to preserve and share Mae Chaem's local knowledge, in particular its famous Tin Jok weaving pattern (see following pages for more details on Tin Jok).

Goals

1. To improve the quality of life and collaboration of the villagers.

2. To give the villagers opportunities for work and participation in management.

3. To generate an alternative source of income while preserving the villagers' local knowledge.

4. To give the villagers an opportunity to exchange knowledge, experiences, and ideas, and work together to solve problems.




Mae Chaem Tin Jok Weaving


About Tin Jok :

Tin Jok refers to the unique handmade cotton embroidered pattern representing the local knowledge and culture of the people of Mae Chaem. It is the only district in Thailand that weaves these patterns in great detail. It is most commonly seen attached to the bottom of women's wraparound skirts, known as pa seen. The combination of the pa seen skirt and the tin jok pattern produced Mae Chaem's most famous product, pa seen tin jok. Every Mae Chaem woman owns at least three pa seen tin joks: 1) to be worn on special occasions, 2) to be worn at their funeral, and 3) for their daughters to be handed down generations. Over the years, tin jok has evolved from the original 15 to over 40 intricate patterns, and now also includes men's clothes and accessories. During the first week of February, Mae Chaem hosts a Tin Jok Festival celebrating the beauty and pride of tin jok.

History of Tin Jok :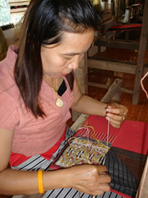 Sitting in front of a loom at their homes, the women of Mae Chaem have been weaving and teaching their daughters tin jok for numerous generations. While the origins of tin jok are unknown, it has now spread to include hundreds of women in Thapa, Cheung Keung, and Bantap subdistricts. Many women still weave pa seen tin joks to wear at their weddings and as gifts. Children also present pa seen tin joks as gifts to elders. During festivals and special occasions, the vibrant colors of tin joks can be seen throughout Mae Chaem. This juxtaposition of their simple way of life and rich culture has ensured the preservation of tin jok as a permanent facet of the people of Mae Chaem.

Characteristics of Tin Jok :

Every tin jok is unique. There are five main components (kolai, hong nok, gom, sabao, and pawan) that combine to produce the 40 various patterns of the tin jok. They serve as a base for the tin jok, but the eventual designs and colors come from the inspirations of the weavers.

Pa seen tin jok consists of three sections. The uppermost part, pamuangsenlek, is a solid cotton fabric, usually in red or white that falls at the waist. The middle pa seen is a long striped fabric that comprises the main part of the skirt. Finally, the tin jok decorates the bottom of the skirt.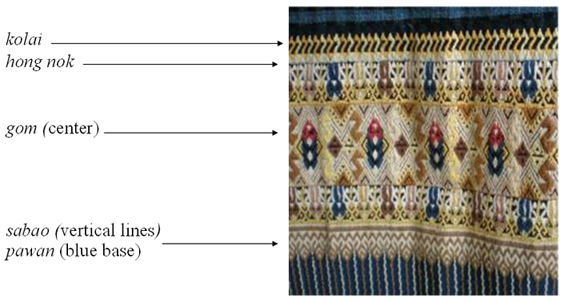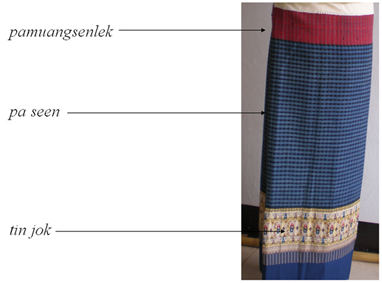 Producing Tin Jok :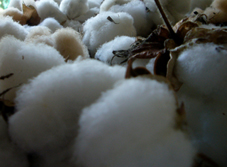 The all natural colors and handmade cloths of tin jok begin with the farmers of Mae Chaem growing most of the cotton. The weavers then spin and dye the cotton for two days using various trees and flowers in Mae Chaem to produce more than twenty different natural colors of tin jok. Women use looms and porcupine quills to weave the cotton into tin jok. This entire process from planting the cotton to weaving altogether reflects the immense care and elaborate detail that is placed into making tin jok, which can take up to one month to produce 180 centimeters of fabric.




About Pa Tin Jok Cotton Weaving Ban Padaed | Contact Information
| Group Products |