While you are in Bangkok, you can buy Thai Tribal Crafts (TTC) products at the Bangkok Christian Guest House.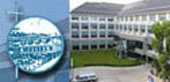 More Info | Contact


You can also buy Thai Tribal Crafts (TTC) products atthe LOFTY BAMBOO, Khao San Road.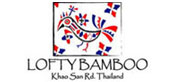 More Info | Contact
Exchange Rate
Certified Member

Producers Information
Mae Sariang Group
Ban Pong Village, Mae Sariang District,Mae Hong Son Province

| | |
| --- | --- |
| Name of Producer Group: | Mae Sariang Group |
| Number of Producers: | 329 (all women) |
| Tribal Group: | Karen |
| Name of Village: | Mae Sariang |
| Location Address: | Mu12,Tambol Ban Kad,Amphur Mae Sariang,Mae Hong Son 58110 |
Story:
Mae Sariang Village

The Ban Pong Karen producer group has started in 1970 by the Christian women of Ban Pong Church with the main objectives:

" to preserve the traditional weaving methods

" to provide assistance for the improvement of family economy through sales of hand woven cloths as well as traditional Karen men and women clothing and

" to open a shop at Ban Pong so that the weavers living surrounding Mae Sariang can come and sell their weavings and handicrafts on consignment.


As per the group's request, in 1975 Thai Tribal Crafts (TTC) helped to open up a small shop at Ban Pong, Mae Sariang district of Mae Hong Son province about 190 kilometers west of Chiang Mai, and formed a local committee to supervise operation of the shop. The committee selected a person, Mrs. Marasri Puang Thong, to manage the shop. At that time Mrs. Marasri was serving as representative of the Karen weavers of Mae Sariang on TTC Board.


Currently there are eighteen producer groups in and surrounding Mae Sariang town, including Ban Pong group, with the total members of 329 weavers who regularly come to Ban Pong shop to sell their products mostly on consignment. TTC places order through Ban Pong Shop for sale in Chiang Mai, Bangkok and export to UK, France Italy, USA, Canada, Australia, New Zealand and Japan, mostly to Fair Trade Organizations in those countries. All weavers are women age ranging from 16 to 55 and the majority are housewives. Currently, there are 18 producer groups in Mae Sariang area.


| | |
| --- | --- |
| Mae Sariang Producers Group | Mae Sariang Producer at work |


Some Products from Mae Sariang Group
<- Back to Previous Page