While you are in Bangkok, you can buy Thai Tribal Crafts (TTC) products at the Bangkok Christian Guest House.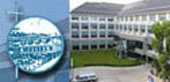 More Info | Contact


You can also buy Thai Tribal Crafts (TTC) products at the LOFTY BAMBOO, Khao San Road.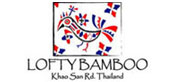 More Info | Contact
Exchange Rate
Certified Member

Producers Information
Goshen Group
Goshen Village, Mae Fa Luang District, Chiang Rai Province

| | |
| --- | --- |
| Name of Producer Group: | Goshen |
| Number of Producers: | 45 women |
| Tribal Group: | Lahu Na |
| Name of Village: | Goshen |
| Location Address: | Mu 5, Tambol Mae Fa Luang, Amphur Mae Fa Luang, Chiang Rai 5724 |
Story:
Goshen Village

Ban Kha Yaen Pattana also known as Goshen is a Lahu Christian village located in Mae Fa Luang district, Chiang Rai province and it is about 235 kilometer away from Chiang Mai city. It was set up about 25 years ago and there was no public services at the beginning and the village could be reached by walking from the highway about 8 kilometer from the village. The village has 86 households with a population 547 people, 220 men, 237 women and 90 youths and children. TTC started working with craft women about 20 years ago. The items made by this producer group includes Shoulder Bags, Plain cloth of various width and length, Pattern woven cloth, Christmas runners and wall hanging hand woven by back-strap loom; and also traditional clothing for man and woman decorated with colorful appliques and embroideries.


The village is well developed now due to the royal princess mother of present King of Thailand built her summer palace at about two kilometers away from the village. Also the district office also built near by and the road to the village is paved, piped water supply and electricity is available. There is a primary school with 145 students, 7 teachers. Children from nearby villages are also attending this school. There is a day time child care center and a village medical clinic. About 50% can read only and 30% can write.


Each household has a limited size of land that the can grow rice, corn and beans but their earning from agriculture is not enough for all year round. Therefore, villagers need supplementary income. Some of them go to work in different cities in Thailand as well as to other countries, such as Taiwan and south Korea. About 70% of the village income is from agriculture, 20% from sales of handicrafts and 10% from others.


Sales of handicrafts of this producer group: 85% to Thai Tribal Crafts, 10% to nearby market, 4% in village and 1% for family use.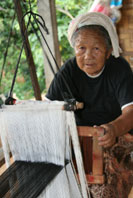 Some Products from Goshen Group
<- Back to Previous Page