While you are in Bangkok, you can buy Thai Tribal Crafts (TTC) products at the Bangkok Christian Guest House.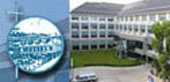 More Info | Contact


You can also buy Thai Tribal Crafts (TTC) products at the LOFTY BAMBOO, Khao San Road.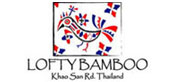 More Info | Contact
Exchange Rate
Certified Member

Producers Information
Ton Lung Lisu Group
Ton Lung Village, Mae Taeng District, Chiang Mai Province

| | |
| --- | --- |
| Name of Producer Group: | Ton Lung Lisu |
| Number of Producers: | 127 (122 women & 5 men) |
| Tribal Group: | Lisu |
| Name of Village: | Ban Ton Lung |
| Location Address: | Mu 5, T. Ban Chang, A. Mae Taeng, Chiang Mai 5812 |
Story:
Ban Ton Lung Village

Most of the Lisu in Thailand live in Chiang Mai, Chiang Rai, Mae Hong Son; and about 10% scattered in other five northern provinces. They traditionally supported their families by engaging in slash-and-burn agriculture, but need now other sources of income as the old way of agriculture is no more possible.


Ban Ton Lung is a resettlement village. The villagers formerly scattered in isolated villages on the mountains of Mae Hong Son, Chiang Mai and Chiang Rai cultivating opium producing poppy. The village was resettled in 1980 and TTC has started working with the villagers since then as they badly needed supplementary income to support their families.


There are five producer groups in this village with 121 women producers and a group of 6 men who make the Lisu Lute and Flute which are traditional Lisu musical instruments. About 80% of village income is from sales of their crafts, mainly to Thai Tribal Crafts. Followings are some the products made from the applique pieces made by the women of this village and Lute made by Lisu men from this village.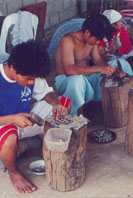 Some Products from Ton Lung Lisu Group
<- Back to Previous Page